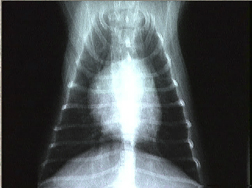 Digital technology is used for the following comprehensive examinations:
Digital x-ray
Myelography
OFA exams
CT scan
CT (computerized tomography) is invaluable for evaluation of the spine, elbow, shoulder, skull and nasal sinuses. Soft tissue masses in the neck, thorax, abdomen and pelvic canal are also frequently evaluated. Our CT is the only small animal unit in the northern San Joaquin Valley.
Outpatient CT scans are available for patients sent to the hospital by referring veterinarians.