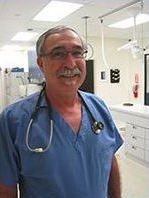 Andrew J Frey, DVM, Diplomate ACVS
Dr. Frey graduated from the University Of California School Of Veterinary Medicine at Davis in 1974. He then completed a small animal internship at the University of Pennsylvania and a small animal surgical residency at the University of Georgia. After serving as staff surgeon in specialty hospitals in Los Angeles, San Diego and Sacramento, Dr. Frey achieved board certification and moved to Manteca in 1984 to establish the Animal Referral Center for small animal surgery. To better serve the growing needs of the San Joaquin Valley, he expanded his practice to include an emergency hospital, and a pet hotel, and relocated to its current location in Stockton in 2010. It is now named the Stockton Veterinary Emergency and Specialty Center.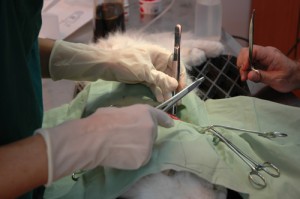 Surgical procedures which require specialized equipment and advanced training include:
ORTHOPEDIC SURGERY
Joint Reconstruction
Joint Replacement (of the elbow, hip, and knee)
Complex Fracture Fixation
Triple Pelvic Osteotomy (TPO)
Femoral Head Ostectomy
Tibial Plateau Leveling Osteotomy (TPLO)
Anterior Cruciate Ligament Rupture
Medial Patellar Luxation
OCD Tarsus
Achilles Tendon Injury
OCD Shoulder
Shoulder Injuries
Biceps Tendons Injuries
Elbow Dysplasia – Fragmented Medial Coronoid Process
Ununited Anconeal Process
Carpal Injuries
Sesmoid Injuries
Growth Deformities
Limb Alignment Corrections
ARTHROSCOPY
Arthroscopy can be performed on the shoulder and elbows as a diagnostic tool, as well as for minimally invasive surgery.
The primary advantages of arthroscopy are visualization of the joint surfaces, and faster recovery time for your pet.
NEUROSURGERY
Intervertebral Disc Rupture
Cervical Vertebral Instability
Lumbosacral Instability
Spinal Injuries
Spinal Cancer
SOFT TISUE SURGERY
Nasal Surgery
Laryngeal Surgery
Salivary Gland Excision
Lateral Ear Resection / Ear Ablation
Hernia Repair (diaphragmatic, umbilical, inguinal, perineal)
Cancer (see below)
Thoracic Surgery
Abdominal Surgery (G.I., urogenital, cancer)
Gastric Dilation / Volvulus
SURGICAL ONCOLOGY
Many pets are referred to our hospital for surgical oncology. A biopsy or mass removal of the affected tissue is performed when indicated. If the pathology report shows neoplastic cells, your pet will be referred to an oncologist in an area near you for chemotherapy and/or radiation therapy.
POST-OPERATIVE INFORMATION
Most patients are referred to Dr. Frey by their primary care veterinarian. Diagnostics and surgery will be limited to the problems specified by the referring veterinarian. Good communication between all parties is essential for optimal patient care. After you leave the office, a complete written report is mailed to your doctor. By referring you to a specialist, your veterinarian has demonstrated their deep concern for your pet's welfare. Please help us by keeping them informed of your pet's condition.